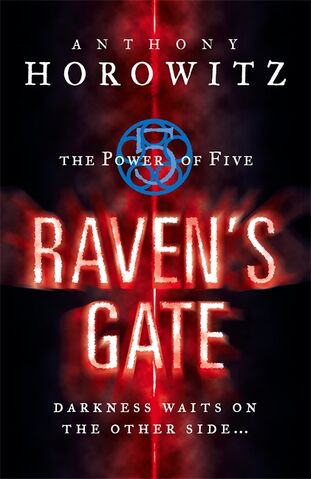 As punishment for a crime he didn't really commit, Matt was given a choice: go to jail or go live with an old woman named Mrs. Deverill in a remote town called Lesser Malling.
He should have chosen jail.
A strange and sinister plan is coming together made in Lesser Malling, with Matt at the center of it all. People who try to help him disappear . . . or die. It all ties to an evil place named Raven's Gate – a place whose destiny is horrifyingly intertwined with Matt's own.
***
Matt Freeman is an orphan on the wrong side of the law. He is convinced by his friend to break in to a warehouse and promised that no one will be hurt. Then things go terribly wrong and suddenly he's being accused of a crime he didn't commit. Although he's not charged, his aunt decides that enough is enough and she can't look after him any more. He is put into the LEAF project, designed to help juvenile delinquents. Unfortunately, this is just the start of his troubles. He is sent to the creepy village of Lesser Malling to live with the even creepier Mrs Deverill and that's when things get freaky… I'm one of those people who is easily scared. I avoid horror movies like the plague – the scariest thing I've watched was
The Others
which was a great movie and probably not even really that scary. The thing is that, for me, it's the suspense that creates the fear. Knowing that there's something malevolent out there, but not being able to see just gives me the heebie-jeebies. That's what makes
Raven's Gate
so incredibly compelling. Reading this at night was like being caught in a natural history museum when the lights are out and dinosaur skeletons are coming to life. Horowitz has been on my List of Excellent Authors since I read
Stormbreaker
in high school. I moved on to
Raven's Gate
at the time and loved it, but never finished the rest of the series. I decided it was about time I finished the series, but, after reading
Jo's Letters to the Five
, I realised I needed to re-read this because I had honestly forgotten everything about it. I'm so glad I did. This really reminded me how wonderful Horowitz's writing is. I've never felt so creeped out when reading a book before. Ever. However, it was not just the fear that made this book compelling; it was the complete and utter despair of Matt's situation. It was something I felt deeply. Each time an escape plan failed or someone died, I just felt this
weight
on my body. The tension in the oppressive farmhouse in Yorkshire was something palpable which I could feel surrounding me. Each time a solution seemed possible, I felt a sense of hopelessness knowing that
something
would stop it. Matt, mate, you're braver than me. I would have given up at the beginning and been sobbing in the corner for the rest of the novel.
Raven's Gate
is a wonderfully creepy and utterly captivating novel and, while it's not for everyone, it is an excellent read and something which I highly recommend. It has a vat of face-melting acid. What more do you really need?